Day 1 :
Keynote Forum
Ingenium Consulting Group, Inc, USA
Time : 09:15-09:55

Biography:
Christian Milaster is a German engineer and Founder of the Ingenium Consulting Group, Inc. He is passionate about enabling the delivery of extraordinary care with a focus on creating effective and efficient Digital Health Transitions. Following his passion, Mr. Milaster partners with forward-thinking healthcare leaders to prepare their organizations for the future of healthcare delivery. Mr. Milaster's expertise stems from a 30-year career, including 17 years in healthcare, at employers including IBM Global Services and the Mayo Clinic, and numerous digital health consulting engagements ranging from strategy development and business planning to the design and implementation of new healthcare services. He has designed and builds sustainable healthcare delivery services that delight patients and improve outcomes, while exciting care providers. His communication methods and implementation skills have emboldened healthcare leaders to effectively execute visionary healthcare delivery strategies.
Abstract:
Most people's off-the-cuff associations with telehealth include technology terms such as video, camera, remote communication, or even robots. But telehealth is not about the technology. Telehealth is healthcare – delivering care at a distance.
When organizations make telehealth about the technology, for example by putting IT in charge of telehealth, this high-potential solution for many of today's healthcare problems fails every time.
This presentation explores that telehealth really is about people (patients and providers), about processes, about health outcomes, and, yes, about the technology enabling the care at a distance. It will include an overview of dozens of the most common telehealth applications, the numerous benefits of telehealth, and pragmatic guidance how to design executive and operational support telehealth so that telehealth can achieve its full potential.
Recent Publications:
"Just how mature is your health system's telehealth program?"American Telemedicine Association Conference, April 2017 Orlando, Florida, USA.
"Is the Dunning-Kruger Effect holding back your Telehealth Success?", LinkedIn Post, April 2017.
"Ending the Digital Health Confusion – A Digital Health Taxonomy", Ingenium Telehealth Whitepaper, February 2017.
"Ignorance, Inertia, Internal IT: Sabotaging Telehealth Success", Weblog article, November 2016.
"Your Telehealth Business Plan: Don't Leave Your Clinic Without It", Florida Telehealth Summit, November 2016, Safety Harbor, FL, USA Alabama Telehealth Summit, May 2016, Birmingham, AL, USA GA Partnership for Telehealth, March 2016, Jekyll Island, GA, USA.
Keynote Forum
Institute for Integrated Outcomes, USA
Time : 09:55-10:35

Biography:
Steve Shaha was introduced at three international conferences as "the premier outcomes researcher globally in breadth and depth." in 2016, He has 35+ years of experience in studies, consulting, lecturing, teaching and speaking. He's provided advisory work to 11 non-US governments on 4 continents, has 250+ conference presentations, 140+ journal publications, 4 books, and in 2015 three requested chapters for international reference books. With two PhDs, he is full Professor and has taught, adjuncted or lectured at 30+ universities in 6 countries, among them Harvard, Cambridge (UK), Oxford, the King's College, Macquarie University (Australia), UCLA, Westminster, Columbia, Cornell, and others. Beyond the 200+ healthcare-focused organisations, he has also advised 50+ of non-healthcare organizations, including e.g. Disney, Ritz-Carlton, RAND, Coca-Cola, Time-Warner, Intel, IBM, Marriott and New Line Cinema organizations. He also served as the Special Assistant to the President of Coca-Cola during crucial months and years of Coca-Cola history.
Abstract:
Electronic patient records (EPRs) have proliferated throughout global healthcare. Too often however, and for too many care organizations, the objective is mostly about maximise financial performance blindly of clinical impacts, particularly within healthcare models dependent upon viability of privately owned healthcare organisations. Regardless, proof of well-balanced benefits to clinical outcomes, cost reductions and user satisfaction remain unjustifiably rare. In healthcare, this lack of substantiation is arguably unconscionable.
The mission and purpose of healthcare and organisations remains improved care to restore or enhance the health and wellbeing of persons and populations. This mission is beyond records computerisation alone, and the mission of computerisation must represent a match in purpose. At its foundational level the mission is only accomplished by pairing the most appropriate clinicians, with patients matched with needs, all within the most clinically appropriate and cost-effective delivery setting. Translated to modern healthcare, that care-giver, recipient and setting match ideally represents the most cost-effective, readily accessible and clinically delivering model. Therefore the mission of computerisation must reflect those needs, and be justified by the benefits required for all.
A vast collection has been amassed reflecting substantive, quantified and compelling gains – proof – in benefits reflecting the needed balance of clinical, cost, satisfaction and efficiency improvements. Case studies shared substantiate improvements in the full array of benefits needed, including improved Sepsis occurrence and care, Transfusion rates, Medication errors (adult and Paediatric), Stroke care and outcomes, Obstetric care and infant complications/mortalities, Cardiology and reduced in-house arrests, Thrombolytics, Orthopedics, Pulmonology, Urology, IV to PO (oral) medication conversions, and beside caregiver inclusive efficacy. Also, maximised benefits for telehealthcare, community integration, emergency utilization, hospitalizations, length of stay, and others. Sharing these examples will provide sufficient background for analogous success throughout healthcare organisations and models.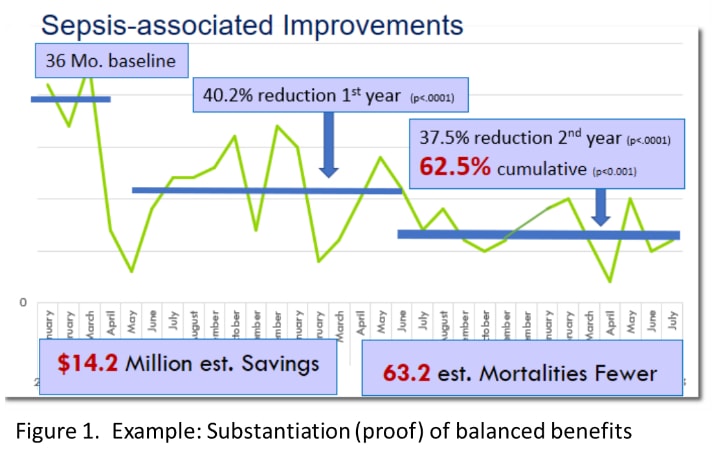 Recent Publications:
Adams, H. P., Del Zoppo, G., Alberts, M. J., Bhatt, D. L., Brass, L., Furlan, A., & Wijdicks, E. F. (2007). Guidelines for the Early Management of Adults With Ischemic Stroke. Circulation, 115(20).
Audebert, H. J., Kukla, C., von Claranau, S. C., Kühn, J., Vatankhah, B., Schenkel, J., & Horn, M. (2005). Telemedicine for Safe and Extended Use of Thrombolysis in Stroke The Telemedic Pilot Project for Integrative Stroke Care (TEMPiS) in Bavaria. Stroke, 36(2).
Bates, D. W. (2002). The quality case for information technology in healthcare. BMC Medical Informatics and Decision Making, 2(1).
Fichman, R. G., Kohli, R., & Krishnan, R. (Eds.). (2011). Editorial overview-the role of information systems in healthcare: Current research and future trends. Information Systems Research, 22(3).
Hick, J. L., Hanfling, D., Burstein, J. L., DeAtley, C., Barbisch, D., Bogdan, G. M., & Cantrill, S. (2004). Health care facility and community strategies for patient care surge capacity. Annals of Emergency Medicine, 44(3).
Keynote Forum
Justus Liebig University Giessen, Germany
Time : 10:50-11:30

Biography:
Wilfried Dimpfel is Honorary Professor at Justus-Liebig-University Giessen, Germany, since 1983. He is pharmacologist and got his neurophysiological education during 1973-1974 as Max Kade stipend (New York) at the NIH Bethesda from Phil Nelson. Together with Hans-Carlos Hofmann, a physicist and mathematician, he developed quantitative EEG software for research and practice. Wilfried Dimpfel is consultant and CSO at NeuroCode AG, Wetzlar, Germany. He published more than 150 papers in peer-reviewed journals.
Abstract:
Statement of the Problem: In order to understand brain function several approaches have been used like functional NMRI or quantitative Electroencephalography (qEEG). Functional NMRI suffers from the fact, that it only provides an indirect measurement but covers the whole brain. Quantitative EEG provides a direct measurement of neuronal activity but is limited to the cortical surface. The present approach aimed at achieving higher time resolution in qEEG analysis in order to combine it with eye tracking.
Methodology & Theoretical Orientation: Fast Fourier Transformed EEG signals were subdivided into specially defined frequency ranges now allowing to analyze epoch lengths of 364 ms. Electric power within the frequency ranges was transformed into spectral colors and mixed according to RGB resulting in brain images representing the true measurement not any so-called "false color coding". Screen capture of the online real time EEG data resulted in the first video-clip. The eye tracker provided a second video as a so-called gaze overlay. By starting the presentation with a gong, offline synchronization using Adobe Premiere software was achieved by taking into account brain and computer dependent processing time.
Findings: Combination of this ultra-fast qEEG analysis with eye tracking allowed functional analysis of brain activity in response to audio-visual challenges with a time resolution of about 3 brain maps per second. Cognitive and emotional challenges revealed particular frequency changes in different brain regions related to individual eye gazes. The new methodology has been successfully applied in evaluation of TV commercials, web site viewing and efficacy characterization of plant-derived drugs, food supplements and food extracts.
Conclusion & Significance: The combination of ultra-fast qEEG and eye tracking called "EnkephaloVision" for the first time revealed extensive focal electric activity at different brain regions related to momentary focal attention shown by orientation of eye gazes.
Fig. 1
Recent Publications:
Dimpfel W, Hofmann H-C (2014) Neurocode-Tracking Based on Quantitative Fast Dynamic EEG Recording in combination with Eye-Tracking. World Journal of Neuroscience, 4: 106-119.
Dimpfel W, Chiegoua GN, Gericke N (2016) EnkephaloVision: Anatomical Functionality Indicated by Ultrashort Transient Regional EEG Spectral Power changes during Cognitive and Emotional Challenges. World Journal of Neuroscience, 6: 90-108.
Dimpfel W (2015) Neuromarketing: Neurocode-Tracking in Combination with Eye-Tracking for Quantitative Objective Assessment of TV Commercials. J of Behavioral and Brain Science, 5: 137-147.
4.Dimpfel W, Morys A (2014) Quantitative Objective Assessment of Websites by Neurocode-Tracking in combination with Eye-Tracking. J of Behavioral and Brain Science 4: 384-395.
5. Dimpfel W, Chiegoua Dipah GN, Suliman S (2016) Proof of Effectiveness of Pascoflair® in Subjects Suffering from Examination Anxiety Using Quantitative EEG in Combination with Eye-Tracking (EnkephaloVision). A Double-Blind, Randomized, Placebo Controlled, 2-Armed, Phase IV Study in Parallel Design. Pharmacology & Pharmacy 7: 424-442.